After spending three days in a spot easy on they eyes and exciting for the mind (I can't get over how fun it is to see sea life easily and often!), we packed up the next morning to move on our road trip. One of the dilemmas we had when planning this trip was the idea that we wanted flexibility, but for some of the kid's sake (they REALLY wanted a shower every once in awhile), we wanted to have a night in a hotel some nights. Since it was spring break, we really didn't know the availability of rooms down at the southern tip, so we made reservations for three nights in a row just to make sure we'd have a place. That meant we couldn't be quite as flexible, but it turned out fine, because it was worth the extra effort to get all the way to the tip. After all, since we were down that far, might as well see the entire peninsula and then know kind of what we might want to concentrate on in the future.
After Craig worked hard to put the kayaks up on top in the past, we finally figured out it was much easier to get K up there to help with the tie down.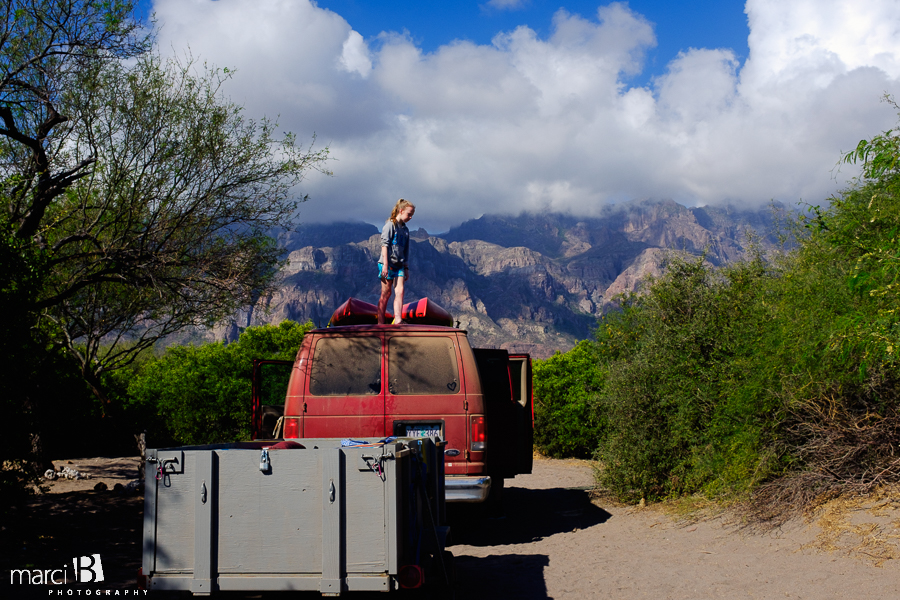 I found after looking through the photos of these next few days that I didn't end up with as many. It was break time for me on the camera, so there didn't end up being too many photos of the afternoon and evening we spent in La Paz. The Hyatt in La Paz was not filled, so I think it would be easy to find lodging here last minute without a problem. We ended up driving about four hours to get to La Paz. The kids swam for awhile and we ate out at a sit down restaurant and splurged for a bigger meal.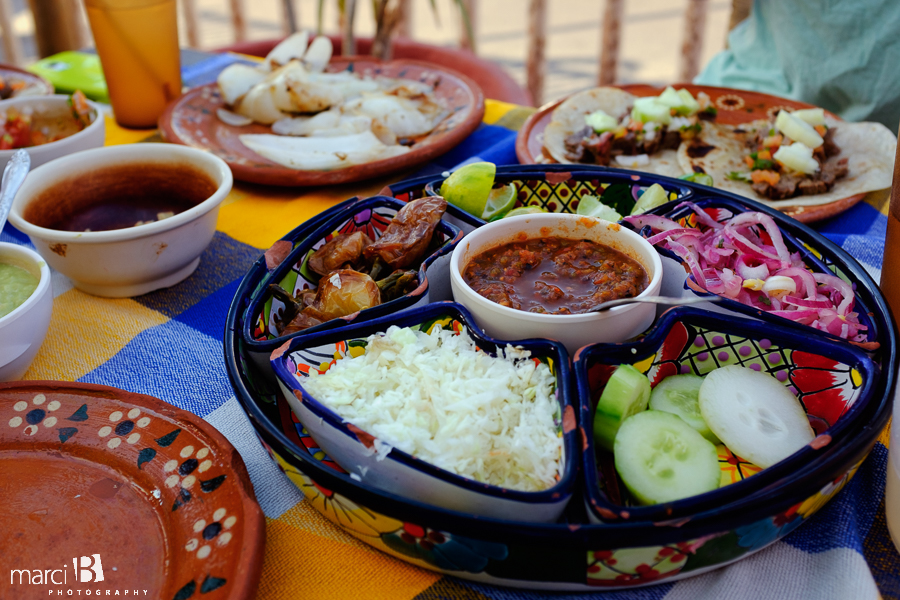 Incidentally, some of these photos are taken by Jema. I brought along two cameras. She's fallen in love with the new one, which is a little one and easy to carry around. The food at this restaurant was awesome and we had help picking it out by the waitress. She didn't really speak much English, but we still managed to share a little bit. She was floored by the size of our family, which I didn't really expect. I know she was saying that she that I was a mom of a big family, but it came out of her mouth as, "Grandmama." I didn't particularly want to identify with that description of me, but she was really nice so, no biggie!
In the one night at our hotel we noticed this unique yacht out the window. Since Craig and I spent time living on a boat early on in our marriage, marine life always catches our eye and intrigues us. Craig googled the name and figured out that it happened to be a yacht owned by Steve Jobs' widow. It had been commissioned by Steve Jobs, but hadn't been finished until after his death. It was the coolest looking yacht we have seen!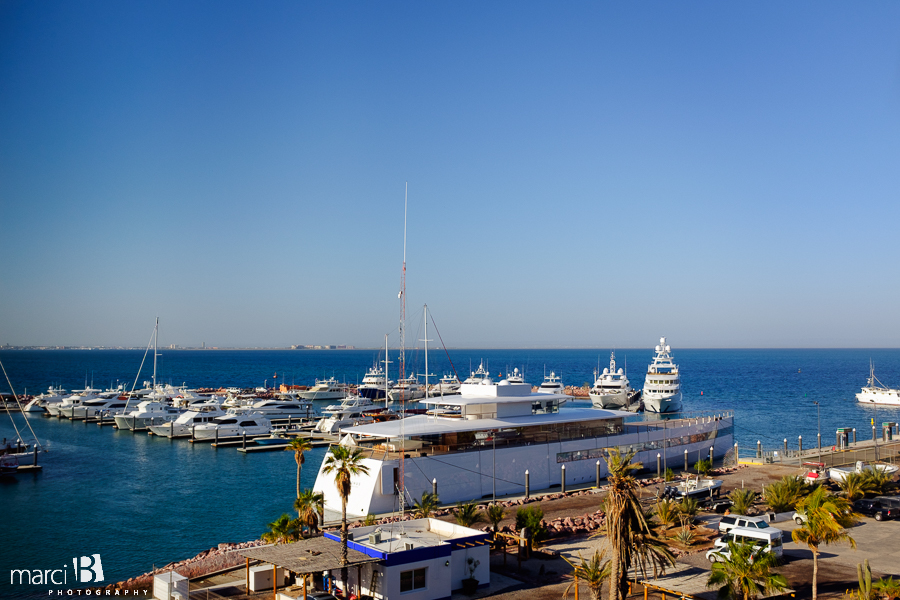 The next reservation we had was down in San Jose, which was a town about 15 miles west of Cabo San Lucas, but still on the southern tip. It was only two hours away, but we wanted to stop in Todos Santos, which we'd seen some favorable write-ups about online. It was uber quaint, touristy, and worth the stop.


Back in the van. There's always a pile up to get back in.

So far we have only been in the Sea of Cortez, which is warmer, but doesn't have waves. Just south of Todos Santos is a really popular surf beach called Los Cerritos. It wasn't totally easy to spot the right turn off, but if you turn off in the general area, you can eventually find your way to the beach. We parked at the Surf Colony Beach.


All of our travels so far seem to be a little at odds with the normal. It turned out to be a good thing with the beaches though, since we'd get there around 9 or so and have alot of it to ourselves.

Within a couple hours though, people started dropping in fast. That table beyond K is a lady who would walk up and down the beaches asking to give massages, hoping to drum up business. There were at least three of them set up by the time we left.

Even though it's touristy in one spot, just a block down the road is trash and undeveloped land.


Someone was always lagging behind. I think I had told Judah to make sure Lacey was actually making it back, rather than getting distracted on the way.

We had two nights in San Jose. This was about half way through the trip and one of the major tasks I wanted to accomplish here was wash our clothes. With the help from the people at the hotel desk, we found a laundromat. It cost about $4 a load for them to wash, dry, AND fold the clothes. Easy peasy!
One of the extra cultural experiences we enjoyed was something that just happened to be going on. It was some sort of big parade and exhibition for an offroad race. Loud music and cars were just a block away from our hotel and we couldn't help but check it out.


The next morning we found one of the most touristy beaches and showed up early. Again, we beat the masses and enjoyed some time before everyone showed up. This was Santa Maria Beach and by noon it was packed with people on the beach and quite a few big sailboats anchored with snorkelers jumping off as soon as they arrived. We were glad we played here though because the snorkeling was pretty fun, since there were enough fish to see.

Now we had been the whole length of Baja and we could kind of make judgments on whether or not it was worth to go the whole way. I'm really glad we had done it, at least once. This is because they were able to experience the waves of the Pacific Ocean, snorkel and see some fun fish, and experience a bit of the tourist culture. The hotel down here was really packed full though, so I'm glad we had our reservation. Even though it was really full, only one elevator was working and the stairs were usually unavailable, so all the kids were experienced in elevator culture by the time we checked out.


I went back to the hotel front desk and asked where we could eat. One thing I enjoyed about people in Baja is that they were willing to hang in a conversation and be helpful. In fact, by the end of the conversation, two other workers came over to brainstorm where to eat. I told them I wanted cheap! The three of the hotel staff haggled a bit between them and gave us two recommendations. This evening we went to one of them, which is pictured below. It was really busy, but I walked in and found a waiter who really knew what he was doing. All the tables were busy so I told him we needed a table for nine. It was pretty humbling to see him run around and actually move a couple people from a table and place them with some other partially full tables. Then they had to go find chairs and clean up the table for us. Finally, after feeling pretty special for all the attention, we sat down and looked at the menu. Now we're getting to the really humbling part, because after looking at the menu, we just quite stomach the prices, and ended up deciding to leave without getting anything. I learned two things from that experience: look at the menu first before asking to sit and hotel staff at touristy spots really don't believe me when I ask for cheap.

Right across the street was a fair going on. So we walked through checking out the food they had to offer. Again, like this instance below, I was thankful the locals didn't mind me trying to speak Spanish, even though I wasn't very good at it.

We decided to go back to the place we had eaten the night before, which was pretty good food and reasonable. Again we walked in and there were no tables that would fit us, but it was easy to split up and find two tables. A young family at a big table spotted us looking for a place to sit and they picked up their stuff and offered the table to us. That was a moment that I'll remember, because of the kindness and hospitality.
After eating we came out to this parking job. We had a couple feet in front, so we made it out of the spot with a bit of jockeying. Not quite sure of what that person was thinking in parking so close though, because every time that happens, it's always a much nicer vehicle than ours. We've already have dents and they don't.

I walked across the street to get that shot above. This is me firing from the hip as I walked back. In Cabo and San Jose, there were more paved side streets. But even these had lots of dust on them. Which reminds me that Jo's observation was that she had seen more people sweeping in Baja than anywhere else combined.

The pathway to the beach from our hotel. The beach is pretty, but not good for swimming here.