Part 3 of our Baja family road trip in centered around our third camping spot. But before we get there, we had ended up finding an RV camp just south of Santa Rosalia about sunset. This was our first experience being in a place with others camping and we were amazed with their welcoming attitude. When we first drove into it, it was clearly an RV place, but seemed more permanent. But once we paused, a lady (Carol) ran out and explained how the place works and we camped for the night. After a few days of driving without many breaks, the kids woke hoping we were going to play for awhile.  This next photo shows that we were on a little bay of the Sea of Cortez and the search for interesting shells immediately continued once the sun rose.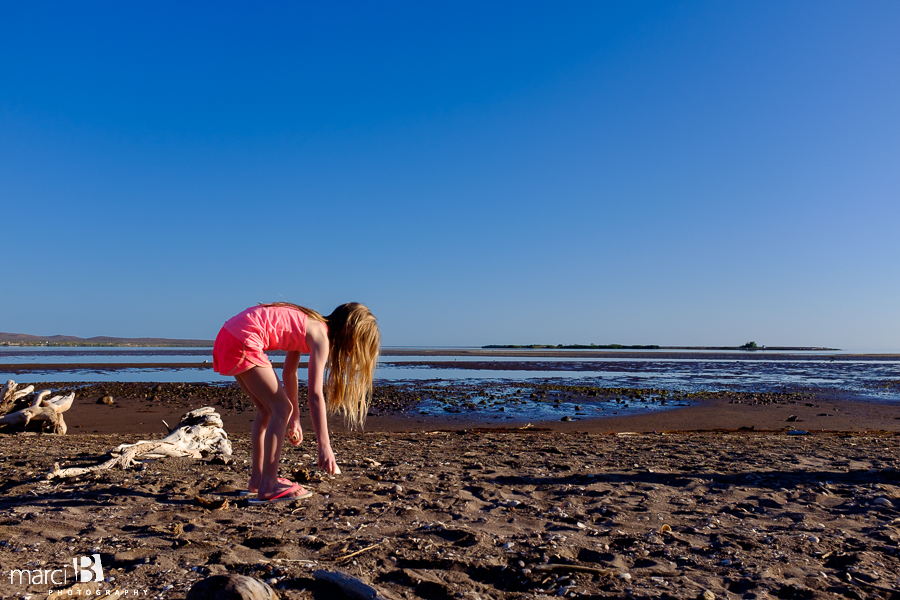 Both of our neighbors, including Carol, were so helpful in letting us know about the place we were at, as well as tips on what to do further south. Both neighbors were experienced Baja visitors. It turned out that I had grown up in the same home town as one of them and they had lived in Corvallis for awhile too. After hearing their description of the bay we were on, which holds a ton of sting rays, we decided to move on down the road, especially after Carol gave us great directions to a super cool camp spot.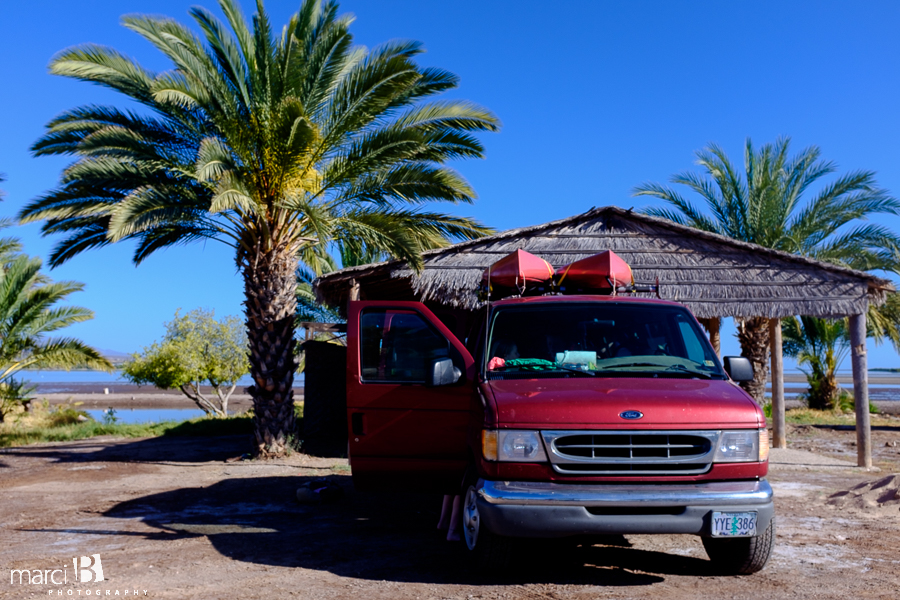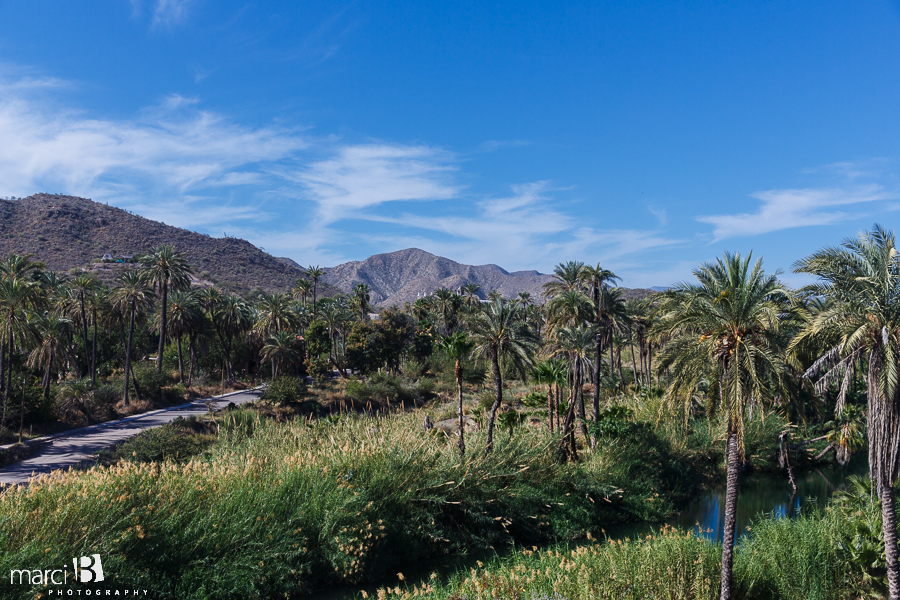 I could put a ton of photos up of all the little interesting buildings, shacks, and vehicles by the road. It was uncanny how every place had a dish for TV.

Since we were spending so much time in the car, we had planned on music, books on tape, and a sporadic movie to watch on the laptop for everyone to see. It was this section of the road that they were watching the Coyote and Roadrunner of Looney Tunes. I couldn't see the show, but I could hear one of the kids making comments and it made me giggle as I heard them:
"I like this one. It defies the law of gravity."
"Look at the outfit  in this one."
"He must be in perfect physical shape." [referring to the coyote]
"We should get that…it's family sized." [referring to the bottle of family sized vitamins]
"This wouldn't work, would it? What's he doing?"
"He should know by now that rockets don't work."
"What did he expect?" [referring to rocket]
Seeing this sort of landscape pass by as the kids watched that show seemed really appropriate.

Goats and cows weren't an uncommon sight. The cows seemed really comfortable standing right next to the road, which doesn't have a shoulder.

Once the van stopped at our next destination I think it took less than a minute for everyone to check out the water. The kid's first initial impression of this spot was that it wasn't as cool since it didn't have sand. It was absolutely gorgeous, though, and we ended up staying here three nights.

I'm pretty sure this was less than an hour later. The kayaks were easy to get off the van and the paddleboards pumped up pretty quick. Carol had recommended this place since the snorkeling is decent, right at the northern end of the range where we could expect to see coral. This beach is south of Loreto a little bit. It made me laugh that the paddleboards were used so often as a lazy way to snorkel.

This was the first time any of the kids had snorkeled.


It was time to get serious about seeing how well the shell search was going. One of our neighbors at the last camp spot had given the kids this bag for them to hold the shells they liked.



I think this spot ended up being my favorite place to camp that we went on the entire trip. The rugged ridges and plentiful sea life made it so interesting each day.
I didn't end up towing them all very far, in this next picture. That was hard work.


Turns out the fishermen would head out in their boat twice a day, just down the beach. Judah found the leftovers.



The colors were so amazing near sunset. I paddled out with Jo near the end of the day and loved how the color reflected off the water.

The next morning Lacey and K paddled off in the kayaks and some dolphins swam right near them.

Craig was able to paddle out to catch them on their return from feeding.


The last few spring breaks in Oregon have been kind of brutal: cold, rainy, and windy. The sun and warm water was an awesome treat. The water temperature ended up being what I would think of a summer lake feels like in Oregon. Not a mountain lake, but one in the valley.

A neighbor down the beach went out in a boat and caught a 35 lb. tuna. The seagulls were his friend.



Each day we ended up driving into Loreto in the afternoon to find a cheap dinner. One of the things I really enjoy about the buildings down here is the bright color. I'm a fan of vibrancy, and we landed right in the middle of it.


We had been told that Loreto was an easy place to find trinkets, not quite so pushy as down in Cabo. It was true, the town is pretty small and we could wander through the little shops where we challenged the kids to see who could get the best bargain on the trinkets they bought. Heidi chose this necklace below and I didn't even look to see what was on it, other than the colors. Later I noticed the actual plant on it and it made me laugh.

Each evening was very mellow on the water and we would paddle and play until the sun was gone.


Almost all of us are in this photo, just missing Kena and K.



See what I mean about the colors reflecting off the water? It was drop dead gorgeous.






Headlamps all around.

Sunrise had a different color to it, but still very calm.

Proof that I went out on the water too. That's my favorite hat and somehow I lost it. I'm so bad at losing things.


This afternoon some of us wanted to take the short hike up to the top of a nearby hill. The fisherman had just returned from their morning trip and were processing their catch of manta rays and shark. Incidentally, most of the taco stands in nearby Loreto only had sea life in them (fish, manta ray, clam, shrimp, marlin, etc.).




We made it to the top.

This was the ridge behind us, on our campspot. We did a very short jaunt up one of the canyons, which turned out to be a really cool spot.

The bay behind Heidi is a really interesting one. The infrastructure has been installed with the hopes developers will continue the project, but so far, none have. It's pretty weird to drive through because it's just fancy paved roads (not common in small towns) with only a little mini mart type store at the marina. That bay is one of only two places that the boats can go to hide during a major wind storm.

Back down we go. Our camp spot is just over the hill.



The way the sun went down over the ridge was pretty spectacular each night.







The kids went out in search of firewood and came back with a few pieces of the trees that we were camping in the midst of. That was the most amazing campfire wood we've ever burned. Funny how that little detail stands out to me, but we'd comment often and frequently how well, hot, and complete it burned. Since we burn wood for our main heat source at home, we're a bit over the top about analyzing how well wood burns. It's just one of our quirks.