Things get much more exciting on Part 2 of our Baja Family Road Trip. So far we have done a whole bunch of travelling  (approximately 30 hours of travel, including border crossing) and this next morning was an activity we had driven all the way down here for. Before leaving, we did a little research on where to see the grey whales. In the winter, they migrate down and a bunch of them go to three different lagoons on the Pacific side of Baja to deliver and train their baby whales. Guerrero Negro was where the closest bay was located. From the camping book, we had chosen to spend the night at Ojo de Liebre because it looked like a cool spot, and I think we read that the tours may have been a little cheaper from that point.
It had turned out that it was breezy when we arrived the night before and the morning didn't really let up all that much. Even though we're in coats in the photos, it really wasn't all that cold. We are just trained from NW experience that to be near big water with a breeze usually means it's cold. Craig and I were up first and nursed our cups of coffee, enjoying the rays of sunshine spotlighting different areas of the bay.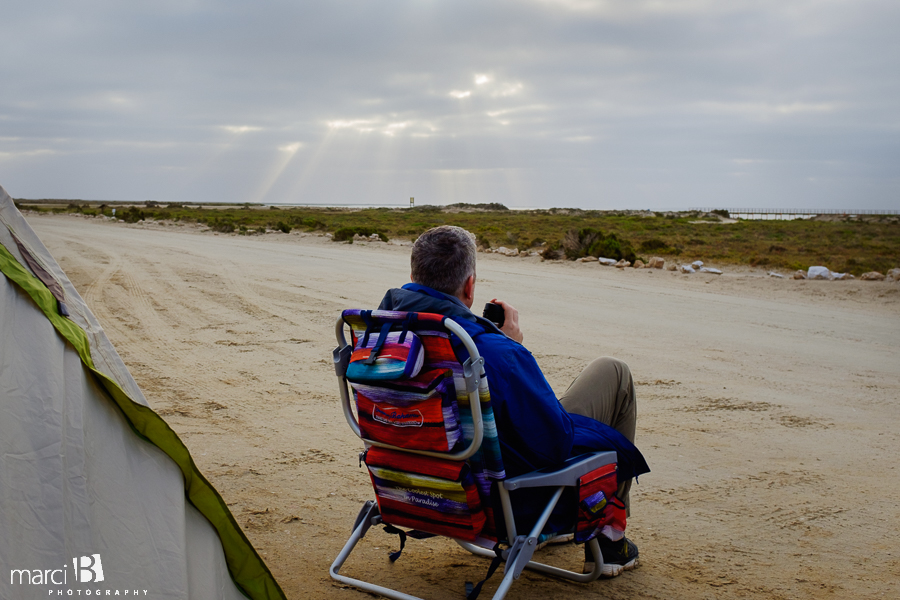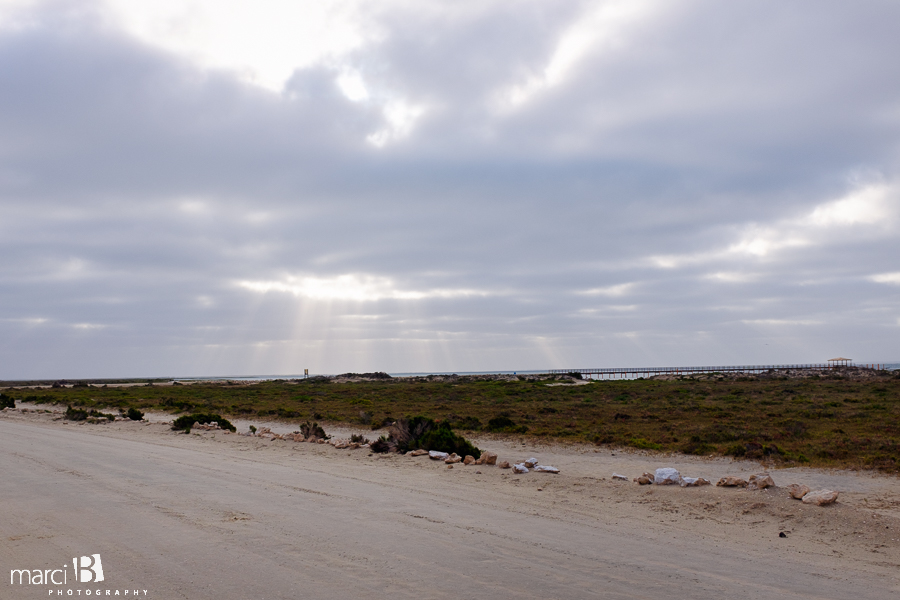 One constant activity that the girls figured out from the start is the shell search. They were everywhere.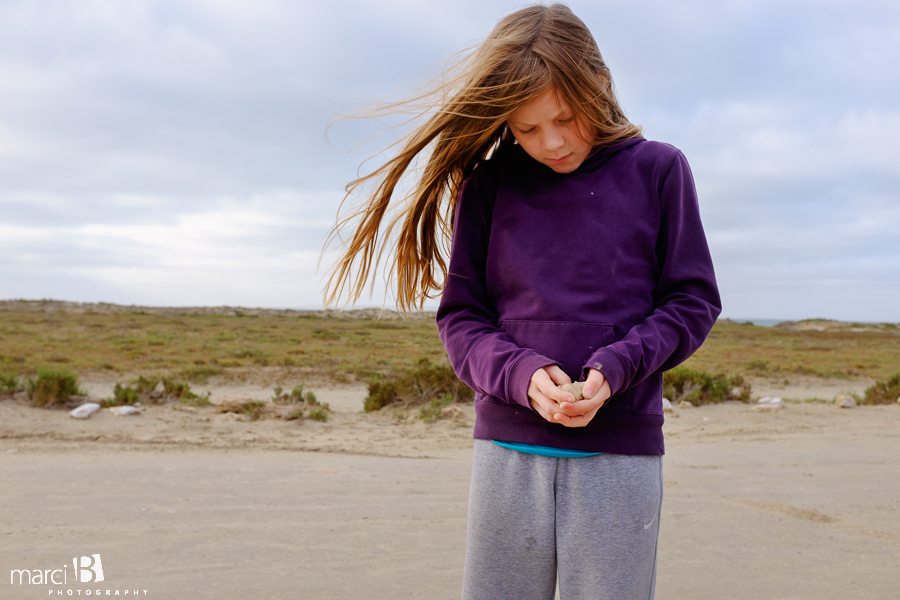 We didn't really know what to expect for the tour, so we just watched the building near the pier, and when we saw action, we walked up and asked. They said they were ready to leave in 10 minutes, so while Craig dealt with the guy and paid, I had the kids grab a sweatshirt and head out to the pier. That reminds me, while we were in Tijuana the night before we had guessed how much cash we'd need in pesos and got that amount from the ATM across the street so we would have money for taco stands and the whale tour.






Our family filled one of the boats.

This is one of those bittersweet pictures. We were pretty excited to use the GoPro to get video footage, while I snapped away with my camera. Halfway through the trip, the GoPro sank to the depths of the bay. Bummer. Craig saved the day with his phone and still grabbed some footage of when the whales were up at the boat.


I could go on and on about how I felt about this boat trip, but seeing a detail like the whale's eye LOOKING AT US in this next picture just makes me smile and grin all over again. It is AMAZING how the new mamas bring their brand new babies right up to the boat, just like a petting zoo. They are such huge creatures and the way they swim around the boat, delicately and with finesse, with the power to easily smash us to smithereens is really humbling. But not once did I feel like we were in danger.



Jo really wanted to touch one. She may have gotten up from her seat each time to find the closest spot to lean over. I say may, because there were a couple times a sibling fought her off and kept control of the prime spot.


Our guide was Luis, who had about as much English in his repertoire as I had Spanish. Even though, Luis and I chatted about his job and our families. He has guided these tours for 26 years! If I remember right I think he said he had 1 boy and 5 daughters of his own. I was also impressed with how well he knows people, because after only 20 minutes or so, he was able to tell that Heidi is the dramatic one in the family while Kena was the quiet one. His son happens to be one of the tour guides as well, so if you go through this company, you'll most likely have Luis or his son, Luis, as captain!



The fluke was always fun to see, because it didn't always happen. Sometimes they would dive down without showing their tail.



First whale touching success! Both Craig and Jo put a hand on the tail of the baby grey.


Seeing this photo of the blow hole reminds me of a story we heard from another family visiting Baja. The dad had said he reached down to touch the whale and accidentally put his hand in the blow hole.


Judah was having a hard time getting close to the whale, so Jema figured she'd give him a hand.

Our day wasn't a perfect whale watching day. The breeze wasn't cold, but it would blow us by the whales, instead of letting us loiter over top. Luis said that if there's no wind, the whales just hang out under the boat for awhile. The waves also made it hard to see under the water. Despite the wind, this was best part of the trip for me, as I was blown away by the whales size, their curiosity, gentleness, meekness, and the overall awesomeness of that experience. I would do it again in a heartbeat.


Once we got back from the whale tour, we didn't really have a plan. All of us were pretty excited from the tour and feeling antsy, so we decided to pack up and move on down Baja, since we still hadn't had the chance to use the kayaks fo paddleboards yet. But before we left, I wanted to get a few shots of what the place looked like in daylight. The Palapas are pretty cool for shade and windbreak. We were able to set one of the tents up inside and the rest on the lee side of the shelter, so that our tents weren't super windblown.

This reminds me. Toilet paper is one of those items that are necessary. That and bottled water. Fortunately, both are cheap. By the way, this outhouse wins the 'best view from the bathroom' award.







We didn't really know how far we'd go until we stopped the night. We ended up driving until about 3 hours and spent the night just south of Santa Rosalia. But before we stopped at the camping spot, we stopped in Santa Rosalia and walked around to find tacos for dinner and more bottled water. This was a small town and it was a noteworthy experience for the kids to walk around, standing out like sore thumbs as obvious tourists, in a place that doesn't feel at all like home to them. One of the kids mentioned that it was uncomfortable because it felt like we were invading other people's lives. That same kid said it made her think twice about always giving someone a skeptical look, because it doesn't necessarily feel good to receive one of those looks. Those thoughts are the ones that I'd hoped would happen when bringing them all to a new and different place.

After spending a bit of time wandering around the town (it's not always easy to find BIG water jugs in small towns), we finally made it to another camping spot that we thought we'd try from the book. We were now on the Sea of Cortez side. Kena is checking out the view and then catching up on some reading in the tent. Incidentally, headlamps are awesome to have for each person.