Where to start?? Maybe the idea that our latest Baja family road trip is one of the vacation highlights of our life together, so far. It began as a simple dream to bring our kids to warm water, since we're from the Pacific Northwest, where the Pacific Ocean is in the mid-50s most of the year. With seven kids, the only cost effective way to do that is to drive. The closest place seemed to be Mexico.
Which brings me to the next series of questions we had about that idea. Not one of our family has been to Mexico. We had reservations:
*Heidi, and others, were extremely skeptical of how long it would take to drive there.
*The mommy in me asks, is it safe? What about the hotel in Tijuana? Is there much theft?
*Almost all the kids wondered, is the water 'for reals' warm in the spring?
Other questions that needed answering to make it sound doable and worthwhile:
*Where to sleep? Finding lodging for 9 people can REALLY add up, which made us consider some camping from the very start.
*Food. Food. Food. After all our travels, happiness is so dependent upon everyone having a full tummy with a little left over to feel good about life. We need to have a plan for food! Is it easy to get? What are the food stores down in Mexico like?
*What are we going to do there?
Those are the big questions. All the little ones came later, and these are just some of them:
*How early do we need to book rooms?
*What's the weather really going to feel like?
*What do we do about tourist visas? Do we need them? Do we get them in advance?
*What's the border crossing like? How long does it take?
*What is cell phone coverage like?
*How good is cell phone coverage?
*What's it like to cross the border with ALL OUR STUFF (camping means having STUFF!)?
*How far is it to the tip of Baja? Do we want to go the whole way? How long will it really take to drive there on the highway in Mexico?
*What is the gas situation like? (I can't believe I wondered that, after going there and finding great gas stations the entire way!)
*How well will we be able to communicate in Spanish?
*How cheap is the food?
*What do we do about drinking water?
*Can we really fit all the stuff we want to bring in our little trailer?
*What camping stuff do we bring?
You may wonder why I'm listing all that out. Both Craig and I tend to be researchers, so our first turn was to do a bit of research on the internet. The trick is finding information that suited the sort of vacation we were hop‌ing to do. Our hope was to give the kids a warm water experience full of culture and education. Beauty of the outdoors and real live people are what make an out of town experience special for us and I was hoping the kids could catch some of that love too. To find information on a road trip spanning the length of Baja, coupled with camping and activities for kids ranging in ages 7-17, made it a little tricky to track down. Most Baja vacation information is really touristy, marketing their all inclusive resort type of thing, which we don't choose normally, and we're just a little independent to put all our eggs in one basket. Anyway, all that to say, it was a little difficult to find the information we wanted and I figured I'd share the wealth with those who are searching for it, because Baja Mexico is an AWESOME place to visit!
Starting off with what to pack: we kept it simple.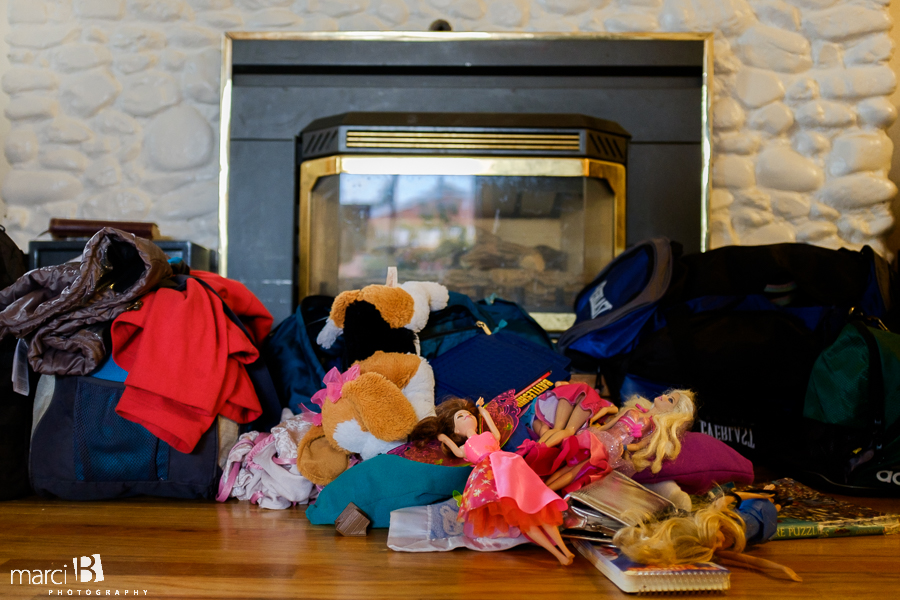 Contrary to what Lacey was hoping, we ditched the toys and kept it to a couple pairs of shorts, pants, sweatshirt, flip flops, and swimsuits. We brought a little more than that, but my goal was to make it a week and then find a laundromat to clean everything once.
Water bottles were important too. Not because we couldn't get them down there, but I had these visions of one of us getting sick and then spreading it to everyone else because we shared the water bottles. I wanted each to have our own and NOT LOSE IT (Haha, what was I thinking? I think I'm usually the one who loses stuff first!).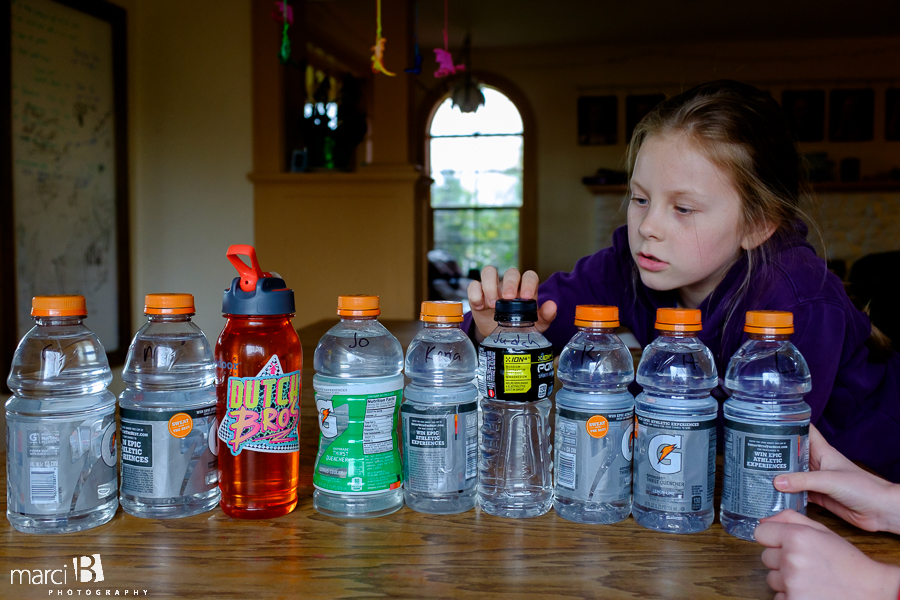 After a bit of research, we settled on a few different activities that we wanted to do. It all surrounded water, which after driving the length of Baja, that's definitely the place kids wanted to be, since the rest of it is desert. We had a cheap roof rack that we strapped two simple kayaks on top and a smallish (4'x8′) trailer. With the seven kids sharing the first three bench seats, that left the back part of our 15 passenger van to put the sleeping bags and clothing bags. We also set up a seating rotation for the kids since there was a definite priority given to certain seats. The trailer held the rest of our gear which included some camping and recreation stuff (tents, two burner propane stove, two Rubbermaids of food, extra trailer tires, few tools, shovel, life jackets, two inflatable Paddleboards, two boogie boards, and paddles).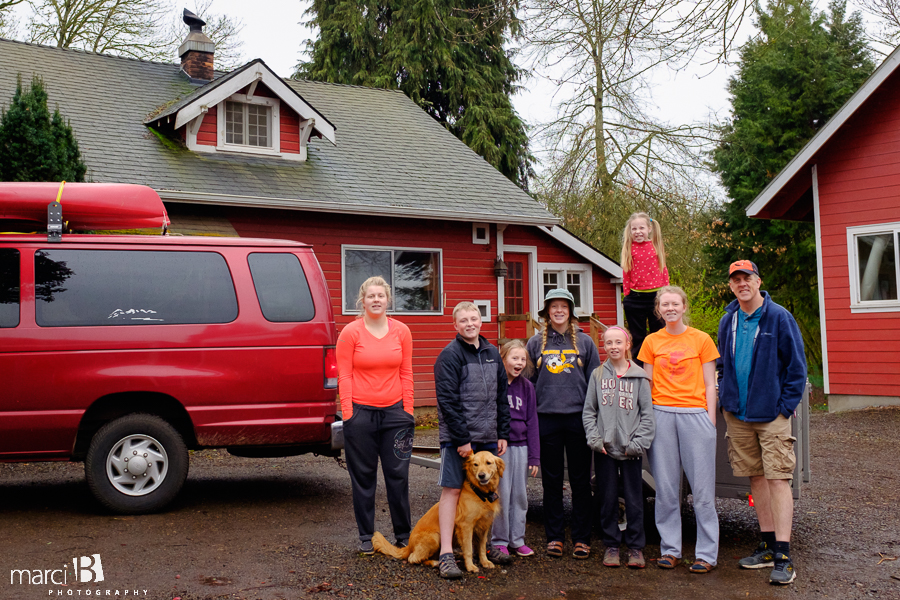 Our main plan for lodging was two-pronged. Craig is a genius. He made half of it for free, since he's worked out the process to get mileage/points from using credit cards. We never carry a debt on them, because he's the master of paying it all off each month with his complicated spreadsheets mapping out his plan, but he managed to rack up enough points over the last year to make it so we were able to stay seven nights at a Hyatt hotel (Tijuana, La Paz, and San Jose). That was a a treat and fancier than we'd ever choose to do if we had to pay cash. The rest of the eight nights we spent camping. The main tool we used for finding camping was an old book that is still super useful: Traveler's Guide to Camping Mexico's Baja: Explore Baja and Puerto Escondido with Your RV or Tent, by Mike Church. Incidentally, I noticed that link had a copy for almost $70! I found one for under $20, but maybe the books are a little sketchy to find.
The rest of the main plans are as follows, and then I'll just get into some random anecdotal information that happened during the trip as well as the details of certain activities that we did and loved:
*We started from Corvallis, OR and drove down to the tip of Baja Mexico and back. Roundtrip mileage was 4561 miles. The places we stayed overnight were Tijuana, Ojo de Liebre camping, RV park near Santa Rosalia camping, camping near Puerto Escondido, La Paz, San Jose, and Bahia de Concepcion camping.
*We took 17 days to drive the road trip.
*Our main activities: camping, boat tour to see gray whales with their babies, kayaking/paddleboarding in the Sea of Cortez, snorkeling with whale sharks and at the tip of Baja.
Most of the details that follow are from journals both from myself and some of the kids to get down some details to remember.
*We left Friday afternoon and drove 9ish hours to Davis, CA. It was a late night, but still worth it to get us closer to the border.
*Every morning we woke in the hotel we would get up by 640, eat the free breakfast at 7 and be on the road before 730. We had been advised by friends to get early starts on long travel days so we could enjoy ourselves at the destination. That was awesome advise and I'd do it the same way next time! Not to mention, the free food at the hotel was a great way to start the day. We had another 10 hours or so to get to Tijuana, so we wanted to get an early start. Even with that early start, since the border crossing took awhile, we didn't get to the hotel until after dark.
*Music was our friend, as well as books on tape. We had a wireless speaker that our devices could connect with so that we could all hear. Our van is old enough that it's stereo system doesn't work with our devices. Through the trip we found we liked certain people to be dj's, but I won't name names!


*I love taking photos. The first three days my photos consisted of drive by photos. California is such an interesting state to drive straight through. It's hard to believe how big their orchards are in the valley.




*Rest stops were pretty important. Finding restrooms in the US was easy. We wondered what it would be like in Mexico. I couldn't resist staging this shot. Lacey was amazed that the phone 'really worked' when she picked up the handset.


I could go on and on about our van. It was an awesome rig to have for the trip! The high clearance and square footage was so nice to have.

*I'm going to show a picture early. I'm a chronological sort of gal, who likes a story to follow a timeline. But it makes sense to share one of the Paddleboards we used.



We had a planning issue come up last minute, where we discovered the fins for our paddleboards were misplaced. Craig ordered them on Monday and they were supposed to be here by Friday afternoon, which is when we were leaving. They didn't show, and when we got back we could see there was a postal issue, definitely not Tower Paddleboard's fault. The awesome part of the story is that Craig contacted Tower and worked out an amazing solution. They were willing to come to the Tower Paddleboard main office in San Diego on the Saturday we were passing through to give us the fins that didn't show. Not only that, they gave us a hat, t-shirt, and stickers (Jema loves her stickers!). We were blown away by their willingness to save our paddleboarding part of the adventure.
*Border crossing.



It looks like it can really vary how long it takes. We crossed around 6pm on a Saturday. Turns out that our type of rig is the one they flag to send through the whole vehicle scanner. We parked it in the right spot (the agent walked us to the scanner), everyone got out, and the vehicle was scanned. It only took about 15 minutes. Right after that we pulled in the parking lot with the awnings directly across all the traffic to get our tourist visas. There wasn't a line, but I recruited Jema and Craig's help to fill out 9 individual forms and then we waited to pay for the visas. Again there wasn't a line, but I think it took at least 45 minutes to figure out and complete the whole process. Obviously for only a couple people, it wouldn't take very long. The major hints to speed it up are to:
-find immigration office (it's to the right, towards the U.S., as you get out of the car, through the big building)
-ask for tourist visa forms for each person (ask agent where to pay after you fill out the forms, if you're nervous about where to turn next)
-fill out forms, there are pens at a table outside the office, or bring your own if you're a Boy Scout sort of person
-pay for visas (they take credit cards)
We got the visas, because if you're in Mexico over a week, your supposed to get them. It turned out that we were never asked for them, either by a cop (who we never got stopped by) nor the different military checkpoint guards. Craig had wondered if it would be worth it to get the visas ahead of time to save time, and the only reason we didn't do it is because it cost an extra $10 or so per person. I bet if there were long lines to get the visas at a different time, it might be worth it.
*We made it! The Hyatt in Tijuana worked awesome. Again, it's not the place we'd probably afford normally, but we felt pretty good about our gear there, not getting stolen, since the hotel had security. We're pretty amateur in all things Tijuana though, so our ignorance isn't something that I'm confident in! We found our first supermarket right next to the hotel, which had everything we needed for food and snacks for the next days. It consisted of tortilla chips, salsa, Chokis (oh my goodness, for store bought cookies, we loved 'em), granola bars, and hot dogs. These bigger stores always made it easier on us in the water department,  since they had bigger jugs available. I forgot to mention, the first couple days we just ate a couple meals I had made at home for eating on the long drives.

*The next day was another long drive to a camping place near Guerrero Negro, which was about 9 hours from Tijuana. Again, we were wanting to cover ground fast and get to the bottom half of Baja, so we didn't stop for photos. So this is what you can expect to see driving south.



Cows!!

Reaching the Pacific was gorgeous. The road was pretty wild, in that it really followed the coast's edge for a little while.

Concrete fence posts. That's a new one for us.

*What are the big greenhouses for? These were little compared to some of the others we saw. It makes me wonder why farmers use them down here, but not up in California.
I'm guessing these burn piles are just a way to get rid of trash?

The colors used for buildings and signs are awesome in Mexico. Blue is my favorite color!

Who needs a Uhaul? I dare anyone who thinks they are a good packer to beat this load!




Oh nummy. The fresh oranges turned out to be a great snack on the road. We bought a bag two or three times this size a little south of this photo.

Being a professional drive by tourist so far, I really enjoyed seeing all the people out, walking around, and interacting.



Being from Oregon, my first thought at seeing all the dirt side streets is that it would be a torturous mud put for us if our streets where like that. Looks like they don't have to worry about that!

The community transportation buses, which looked like our school buses, picked up people at random spots. Some guys seemed to be in the middle of nowhere on the highway, waiting for the bus to come by and pick them up.

Mmmmm, strawberries!

The military checkpoints were interesting to go through. We only had to get out twice, as a couple soldiers took a quick look in the van and trailer. There were a few of them that didn't know English well at all, perhaps as well as I knew Spanish. Which brings me to a rabbit trail in that I was the only one in our family to have any background in Spanish, and that was forever ago in high school! It was pretty fun to try to communicate though, especially when the basic things came into mind, as well as the local's willingness to let me try.

Greenhouses again. These aren't even the big ones. They were farther off the road and seemed little in a photo.

Even though this is fuzzy, I love the feeling of it. Palm trees are a happy sight to this family!

It wasn't really that common to be able to see the Pacific Ocean. When we did, it was a very welcome sight. Right after seeing this, we pulled into Rosario, which was about halfway to our stop for the night. We tried stopping at an establishment to eat, but it was closed for a funeral. So we drove a little farther down the road and had our first experience at a taco stand, where the owners didn't know any English at all. We managed to order pork tacos (without skins, that was a little tricky to figure out) and even had a few extras. The total bill was just under $6 for us all. The funny thing is that it was the cheapest place we went the whole trip and the favorite of some of the kids. But I think that's because some of them never did like fish tacos.

On the last half of the drive for the day we hit the boulders. It reminded me of the roadrunner cartoons. Judah insisted on stopping so he could see what's inside the cactus.





Reaching our first camping destination was a little touch and go. We wanted to camp at Ojo de Liebre, which was around 15 miles off the main road. We had a description from the camping book we had on how to get there, but since the roads were through the salt flats, it seemed a bit of a maze to find the right way. Cell coverage wasn't complete down there, so what we ended up doing was seeing our little red dot (us on GPS) move around on the downloaded map that Craig had on his phone. If our red dot moved the wrong way, we'd turn around and go down a different road until we finally found the campground. It turns out that when we came out the next day, there were little signs to follow, but we just didn't see them.

That's going to conclude Part one. It's probably the least exciting, since the very next day we do something that's one of the highlights of my life.