Wide awake and ready to take on the world, is John's motto. Actually, almost every Corvallis newborn I meet is kind of like that. Even though they've only been breathing air for a few days plus or minus some, new little ones seem to have things figured out: Mom and Dad are there to take care of every need, sleep time and food is always available. They sleep and eat, nonstop, lulling Mom and Dad into a routine that seems predictable. Then I walk in the room and all routine is broken. I'm not sure how newborns know that something is different on the day of a photo shoot, but each newborn session almost always runs the same course.
I usually show up and Mom tells me how much the little one has been fed and is probably going to sleep so long and well because they always do. But they don't. It's not like I talk loud or push and prod the babies, they just know something's up and end up not sleeping like normal. That's ok to be awake like that and we take pictures anyway, because the ones with eyes wide open are still awesome.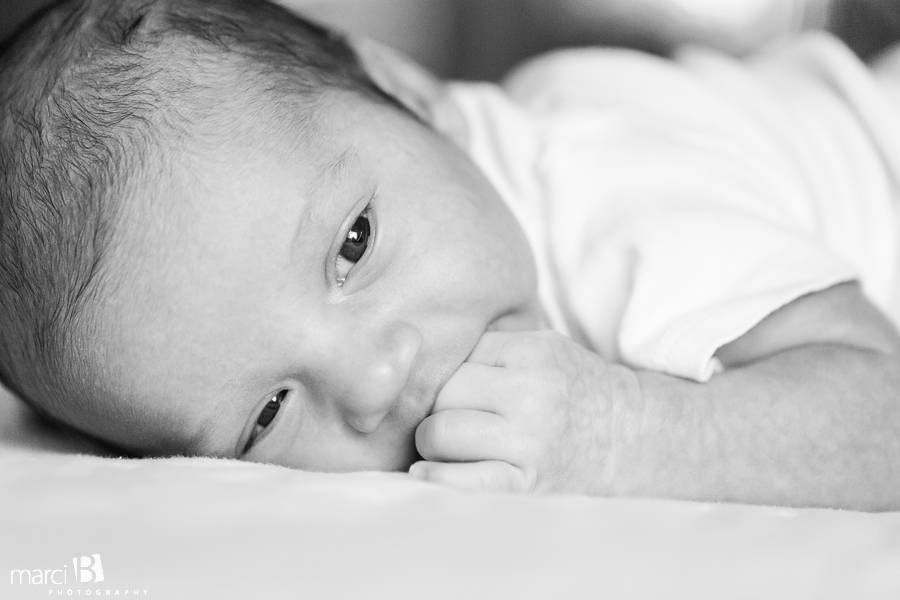 Since it's always better to be held, time on the back or tummy doesn't usually last long. That's ok too, because I like to see how little the babies are.




Patience is the key. This is why newborn sessions, if you want sleeping shots, can take awhile. In this case, little John is family and I spent the time catching up with everyone.



It must have been a great dream.